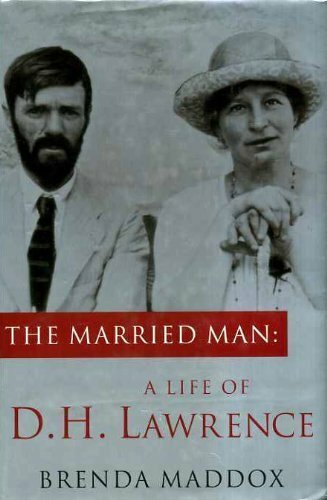 This engrossing doorstep of a biography focuses on the eighteen years of D.H. Lawrence's relationship with Frieda, his former tutor's striking, ebullient, promiscuous German wife. Lawrence was probably attracted by her lack of inhibition and belief in free expression which she had picked up via a previous lover from continental thinkers like Nietzsche and Freud, in such sharp contrast to the narrow, Congregational chapel world of the Nottinghamshire mining community in which he had grown up.
In turn, Frieda believed herself to be nurturing and inspiring his genius as a writer, arguing after his death that, if he had married his first girlfriend Jessie Chambers, he would never have been more than "a little local poet, a watered down Thomas Hardy".
For those who admired Frieda, there seem to have been more who regarded her as a very damaging influence on him, even to the point of contributing to his death by failing to use common sense and insisting on obtaining proper treatment for the tuberculosis which he denied for years, almost to the end. Admittedly, he could only tolerate life in a sanatorium for a fortnight when he eventually admitted defeat. Apart from her frequent infidelities which Lawrence seemed to tolerate, her worst fault seems to have been provoking him quite knowingly into the savage bursts of anger in which he beat her, even in front of visitors and friends. This, together with the undeniable misogyny in some of his later writing, plus his preoccupation with male dominance in marriage, triggered the condemnation of the 1970s feminist movement, as represented by Kate Millett.
As a result, Lawrence now remains well-known, but not particularly revered, so it is interesting to learn how quickly and easily he gained initial recognition, although his growing fame was fed by the notoriety of his later work, culminating in "Lady Chatterley's Lover", banned in both England and America, which it is disappointing to learn was written simply to earn as much as possible quickly when he knew he was dying. Apart from his main rival James Joyce, Lawrence was admired by famous writers like E.M. Forster and Aldous Huxley, although many were offended by his habit of including them undisguised, but often caricatured in his novels. They were repelled by the too frequent violent outbursts which made even friends doubt his sanity at times.
This could of course be attributed to his frequent ill health, and the suppressed knowledge that he had a disease which caused him considerable pain, and would kill him prematurely. When he was a child, his mother's possessiveness, heightened by the need to nurse him through a long illness, and generally to protect him from infection, must have affected his emotional development. Her bitter contempt for her husband, which she encouraged her children to share, must also have damaged Lawrence's ability to form stable relationships, but author Brenda Maddox does not explore these aspects much.
Lawrence is fascinating in his dual personality. Many found him charismatic, charming and entertaining, although his skilful mimicry must have been insensitive at times. He was industrious, with many practical skills, often generous with his time and money, when he had it, to help others. Yet he could also be cruel, abusive, sharp-tongued, dogmatic and opinionated to the degree that one might question how "good" a writer he really was when he committed some of his bizarre, often confused, ideas to print.
A restless wanderer to Italy, Ceylon, Australia or the high plains of the US state of New Mexico and Mexico itself in search of the pure air at high altitudes to ease his lungs, Lawrence gained the material for his memorable travel writing. His keen observation of nature and animals (which did not prevent his vicious beating of a pet dog) produced some striking poetry: "A snake came to my water-trough…." . "Sons and Lovers" is an enduring classic, although a clear example of the degree to which he drew on his own experience, in the process misrepresenting his relationship with Jessie Chambers, which he would justify by arguing that "art is not life", even if it draws on real people for inspiration.
His later work, as summarised and quoted from in this book, often appears too farcical, perhaps intentionally, produced too quickly, with a loss of his earlier more subtle and considered style. But whatever one's view of his work, Lawrence and Frieda remain an intriguing couple, rattling through their world of evocative places and famous names from the past.