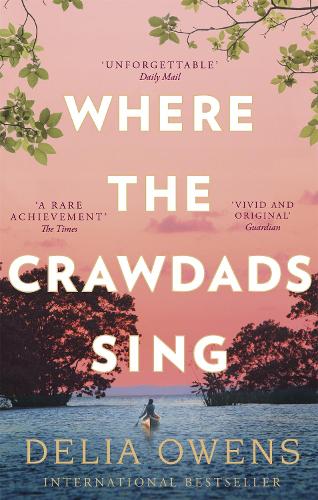 In the marshland of North Carolina, still unspoilt in the early 1950s, inhabited only by a few down-and-outs or those escaping justice, branded "marsh trash" by the residents of nearly Barkley Cove, six-year-old Kya knows there is something amiss when her mother leaves their decrepit coastal shack, carrying a suitcase. Kya's four older siblings soon follow suit, driven away by the violence of their drunken father. Expected to earn her keep by doing chores, she avoids him as much as possible, seeking refuge collecting shells and watching herons with flocks of the gulls soaring over the lagoon shore. Bribed with the promise of chicken pie, Kya endures a day of bullying at the town school, but evades the truancy officers thereafter. Abandoned by her father, she manages to survive alone with the help of strangers, including a boy called Tate who teaches her to read. So she somehow grows into a beautiful and intelligent woman, desperately lonely but unable to fit into the community of Barkley Cove, where she is scorned as the "Marsh Girl".
This storyline alternates and contrasts with a mystery in 1969 when the body of Chase Andrews is discovered in the mud at the base of an old fire tower near Barkley Cove, with foul play soon suspected. Handsome, athletic popular and married, he is also known to have been a womaniser, with Kya among his list of conquests.
This novel is remarkable for its mesmerising descriptions of the natural world, informed by the author's knowledge as a zoologist combined with a skill which has won her at least one award and plaudits for nature writing. One can visualise every change in the landscape and wildlife as Kya makes her first journey alone by boat between the low-hanging limbs of giant trees, where "duckweed colours the water as green as the leafy ceiling, creating an emerald tunnel" then out to an estuary where "waves slammed against one another awash in their own white saliva….. breaking with loud booms …. then… flattened into tongues of foam".
The novel is also strong on the psychology of someone who has lost trust through repeated abandonment and also the impact of the world on one accustomed to isolation. So, on her first journey by car to a distant large town, travel on a main road is akin to a roller coaster without a security harness, in contrast to the wide skies of the marshes, mountains are disturbing because the sun keeps setting behind them only to reappear while the tower blocks and crowds of people at her destination are bewildering.
Some who know North Caroline have criticised the factual accuracy of certain points but I can accept any errors as "dramatic licence". It is harder to deny the implausibility of a young child being able to survive for so long, in apparent perfect health and no major accidents with such poor food, no innoculations. To have been left in this state is unlikely. Kya's ability to teach herself to such a high level, express herself so articulately, seems far-fetched. Like many novels, the plot is awash with coincidences, most of the characters are stereotypes, the harshness of Kya's situation is too often leavened with excessive sentimentality, the final twist is rendered improbable by previous arguments and presented as morally justifiable when it is in fact questionable.
The author herself caught my interest by reason of her time in Africa where she and her former husband became embroiled in controversy over their campaigning against ivory poachers, in circumstances which may have inspired this book in some respects.
Despite my reservations which are clearly a minority view on this international bestseller, I found it a page-turner and worth reading although I would be interested to know how male readers tend to rate it.