Two brothers, unnamed until the final twist of the almost all-revealing epilogue, grow up in Paris caught between two very different cultures: their volatile left-wing father fled from Syria to France where, having abandoned his studies, he married their Breton mother who died tragically young when they still needed her stable influence.
The narrative swings between the two men, helpfully printed in different fonts although their written styles are very different. Older Brother (Grand Frère) slogs for a "VTC" app-based Uber-like chauffeur-driven car hire company, much to the fury of his father who drives a conventional taxi under threat from the hi-tech competition.
Younger Brother, probably more intelligent and reflective, is an operating theatre nurse who disappears without warning to Syria, where, if he is to be believed, he simply hopes to gain more job satisfaction, with a better prospect of progressing to work as a doctor than in the prejudiced environment of a Parisian hospital. This move shocks his brother and father, not least because they come under suspicion as supporters of a possible terrorist.
After a slow-paced scene-setting start, the novel "takes off" when younger brother suddenly reappears after an absence of three years, presenting his sibling, already under pressure as an involuntary police informer, with a problem: should he shop his brother, or make himself accessory to an assumed terrorist by helping him?
Reading this in the original French, I found the first part hard going, partly owing to the large amount of French slang and Arab colloquialisms helpfully often translated in the glossary at the end – there may even be some of the words the author enjoys inventing! There is also Older Brother's tendency to express himself in a stream of marijuana-befuddled consciousness. His is a very macho, chauvinist cochon culture: still in her mid-twenties, his "woman" has breasts hanging to her navel, to give a flavour of this. Yet his flow provides a vivid picture of the immigrant communities with the older men grafting to make a living in Paris, while their children channel their talents into rap, or fall under the spell of silver-tongued religious fanatics. The author's fascination with people-watching feeds the sharp observations of the passengers whom Older Brother transports round the capital, and fragments of his homespun philosophy on life show surprising flashes of insight.
It's worth looking up any reference one does not understand: I was intrigued by the detailed description of a thumb-shaped sculpture in the La Défense area which actually exists in Google images.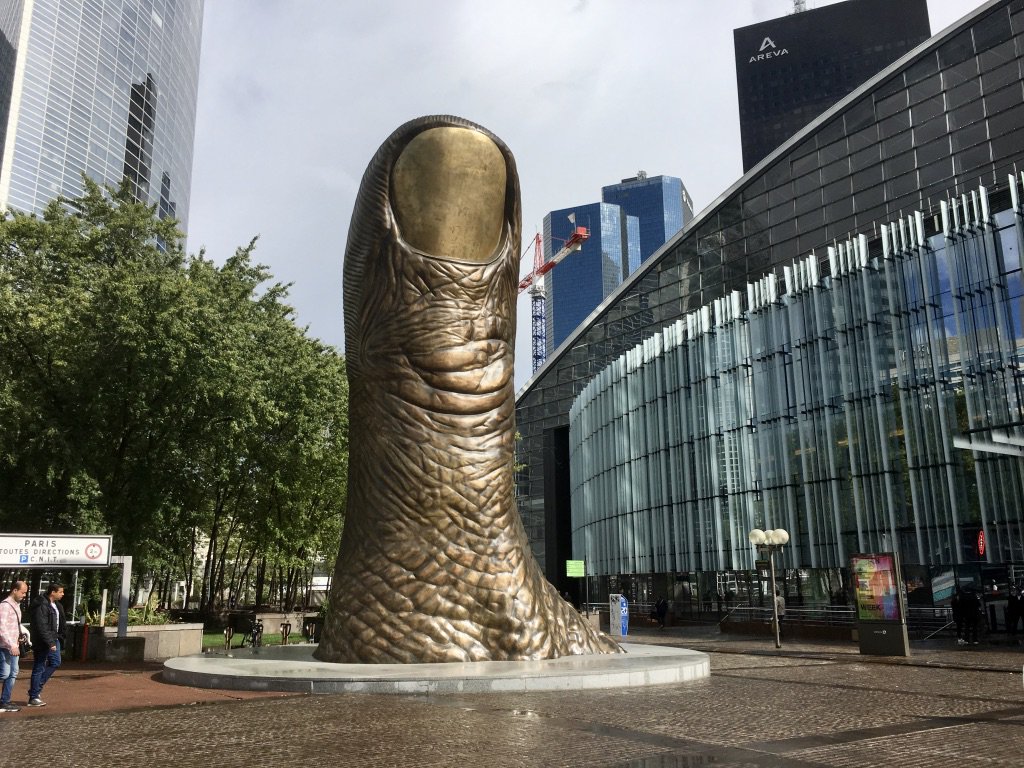 An interesting talk by the author, himself the children of immigrants from Kurdish Turkey, which seems to have made him more open to challenging conventions of all kinds, helped me to appreciate this award-winning first novel more. The French which I often found so hard to grasp is apparently the language of many young people in France, with immigrants too often feeling alienated or undervalued. Of course, much of this authentic flavour would be lost in translation, but the novel would be easier to read!
The accelerating pace to a dramatic climax encourages one to keep going, but it is the epilogue which, even if not an entirely original ploy, provides what seems on reflection to be the only satisfactory ending, also a resolution of some implausible aspects of the plot which troubled me. Its open-endedness gives scope for the author to write a sequel.